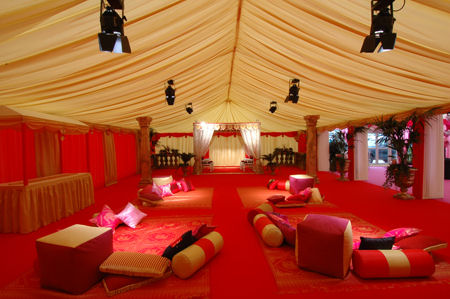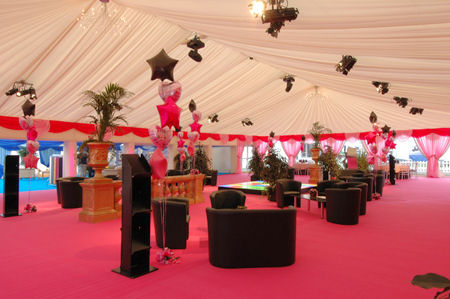 For the third year running, Custom Covers have won the prize for the best interiors at the prestigious Showman's Show. For the 2005 Show the Company put up a display featuring 8 structures, making it the biggest in the company's history. A 15m structutre was flanked by two 9m frames and 4 6m pagoda's, with 2 12m bell end structutres forming a 10 sided starlight space.
The judges and many of the visitors were impressed by the diversity of the interiors displayed as part of the stand. As well as showing a range of aluminium-extruded frames from 3m to 15m spans, Custom Covers showed a number of themed areas. These included an Asian interior, a 21st birthday party, celebrating the company's anniversary, and a chill out area. This allowed a range of new fabrics and design elements to be exhibited.
The 8 structures were seamlessly joined to allow the visitor to compare the new fabrics as part of the overall effect. A new design of pagoda roof with rounded edged windows, giving a stylish finish and lots of light was displayed alongside a new duck egg blue polyester lining cloth.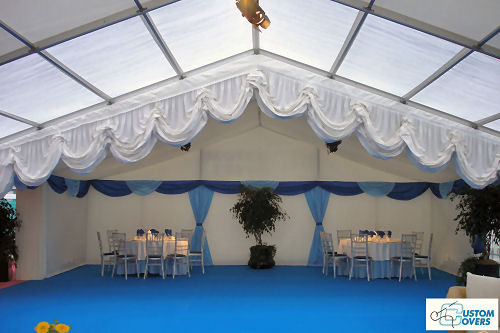 New interior fabrics ranged from the CQ Star material developed to provide a uniform black starcloth or blackout lining. This is also available in white and Ivory and was displayed with LED starlights fitted to a 12m bell end lining. The use of a white or ivory starlight roof allows other lighting effects to come into play giving many possibilities for setting the correct ambiance.
New linen effect fabrics, to be used as flat linings and a new stretch fabric to allow minimal creasing for flat walls were displayed alongside the popular dividing curtain.
Managing Director, Simon Bell reported, "We set out to show what can be achieved by using our standard range of products and were very pleased that this appealed to both the judges and the visitors to the stand. The hard work put in by the team during the build up and throughout the show has been justly rewarded in winning their third 1st prize in a row. We are confident that this year's stand was the best we have yet presented".