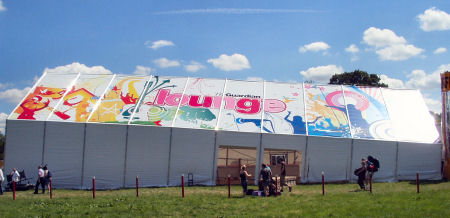 Glastonbury is notorious for its muddy, undulating ground conditions, which pose challanges to the most hardened of event contractors. This year's freak storms and floods really seperated the men from the boys in the shelter stakes.
The Guardian Lounge, designed by Custom Covers and erected by Ably Shelters, is a fine example of who a creative concept can be delivered in a relativly short timescale, without compromising functionality or style.
The design takes the form of a giant folded newspaper, concieved by PD3 Marketing from an idea by Hut Architecture. "The unusuall longitudinal angle and roof pitch posed a challange when it came to sourcing a supplier. No existing design came close to it, and many said it could not be built" commeted Andrew Whiting from Hut Architecture.
Custom Covers were able to advise that Ably's Libra Diamond system would offer the flexibility required and the speed of installation. Custom Covers developed the design of the fabric panels to match the frame and Ably installed the structure in two days.
The finished structure created quite a stir at Glastonbury, the unusual sloping roof elicited phone calls from the public concerned that the Guardin Lounge was sinking into the mud. In the event the shelter proved to be up tothe task of providing a comfortable, structurally sound venue.