Coverspan Spotlight: Entrances
---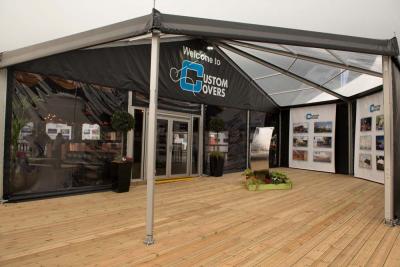 12m Bell Extension Entrance in Black
It's always a top priority to make an entrance at any party, so why should the event marquee be any different?
For the summer's instalment of the Coverspan Spotlight series, we're shining a light on entrances. We have specially designed entrances like the Solent Canopy, as well as the more versatile extensions like the Hex end, or the 3m curved walkway. There are plenty of options to choose from. Check our selection of entrances below for some ideas.
Already have an entrance in mind? Call us on 02380 335 744 and we'll help you
For a full gallery of entrance inspiration, click this link to our website
| | |
| --- | --- |
| 3m Walkway Entrance | A set of 3m Clear Romsey Pagodas and a Clear 6m Cone |
| 9m Solent Canopy | 6m Side Veranda Entrance |
| Grand 15m Gable End Entrance | 6m Clear Bell Extension Entrance |
All Coverspan marquees and add-ons have been designed to work and fit together: when you buy the basic structure you are buying into a versatile system which helps you build a thriving business, with add-ons and extensions which differentiate your product range from the crowd.
Has anything inspired you? Call us on 02380 335 744 and we'll be happy to help.