Last year Custom Covers took possession of the 15,000 square foot factory over the road from their existing Southampton base on Quayside Road. After refurbishment the new space officially opened today. The new unit does a number of things: more production space, a more up-to-date frame storage and off road customer collections.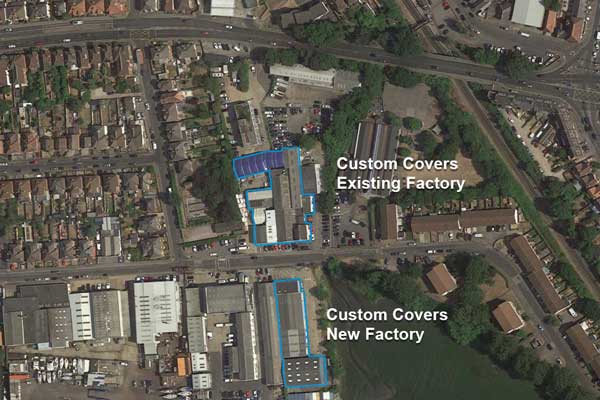 Our new factory opposite and across the road from the existing Southampton site
In the new factory we have two new buildings, the first unit hosts a 43m x 12m PVC production space with a 40m welding bed, the largest PVC high frequency welding bed in the UK, complete with new high-frequency PVC welders. This brings our total number of PVC high frequency welders to 10. Providing us with a more flexible working space, specifically this gives us the ability to take on production of 40m long PVC welding work.

Custom Covers Managing Director Robert Sanders with Production Manager Malcolm Carnegie by the new 40m Welding bed
The second unit houses a new dedicated frame storage facility with easy off-road access for loading: this provides a more efficient working space and the ability to hold more frame stock. While you're goods are being loaded, why not put your feet up in our new customer collections reception.
| | |
| --- | --- |
| Our new dedicated frame store | Our new customer collections reception area |
What does this mean for our customers?
Goods out and customer collections will be from the new Southampton site to the south side of Quayside Rd Southampton (See map above).
Goods in will not change from current operation.
Hire goods in and goods out will remain at our Winchester depot.
Next time you come to Custom Covers to collect or if your passing, come and check out the next exciting phase of Custom Covers' expansion.