Showman's Show 2017

Another Showman's Show wrapped up for Custom Covers, and what a show it was. For the first time ever we had 2 stands; our main stand on Avenues B & C and we introduced our newest structure, the Tensile Traditional Marquee on Avenue F. Every year when we go into the show, our main objectives are to inspire our customers and show them things they can achieve with a marquee and to getting crucial feedback from our customers that we can use going forward.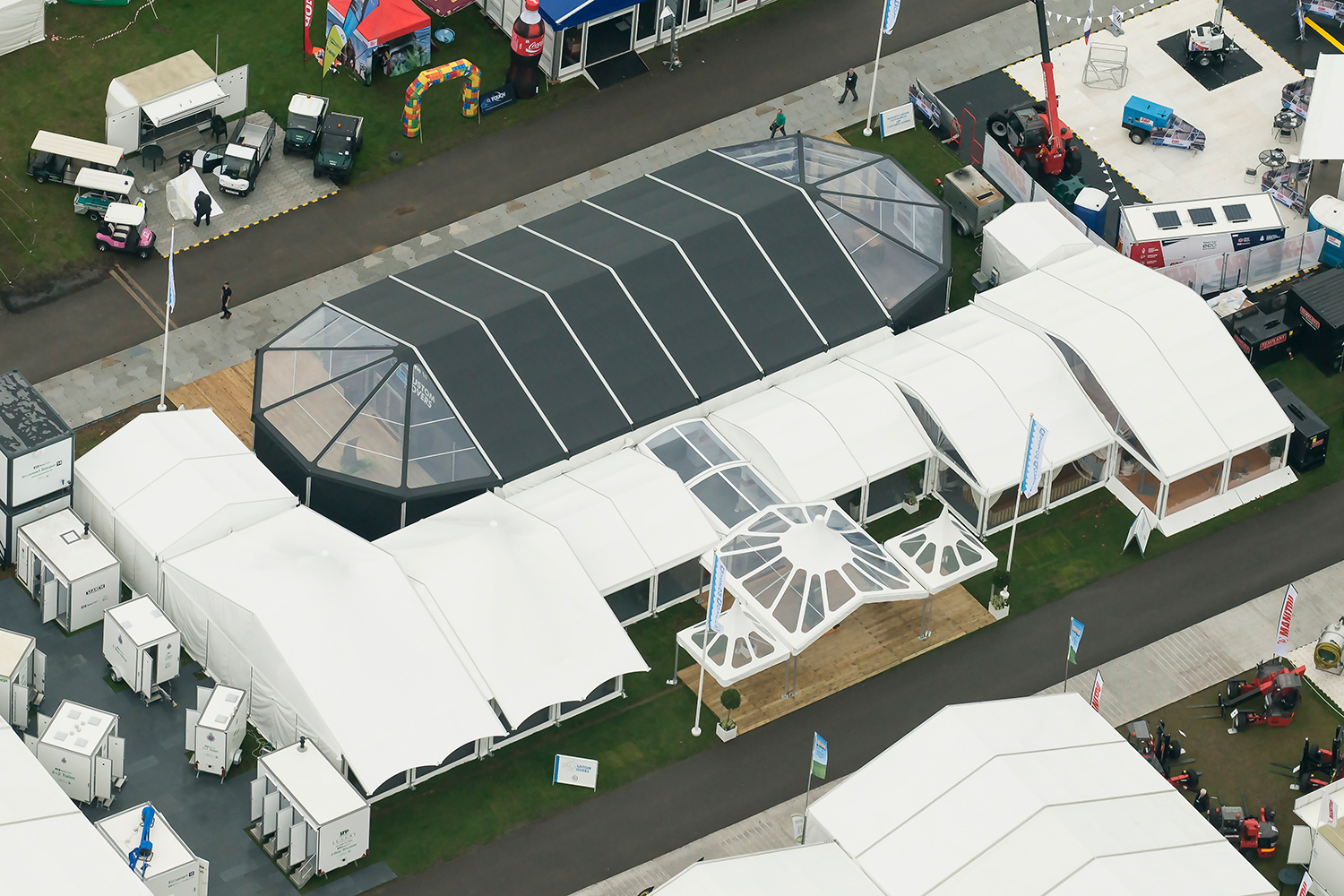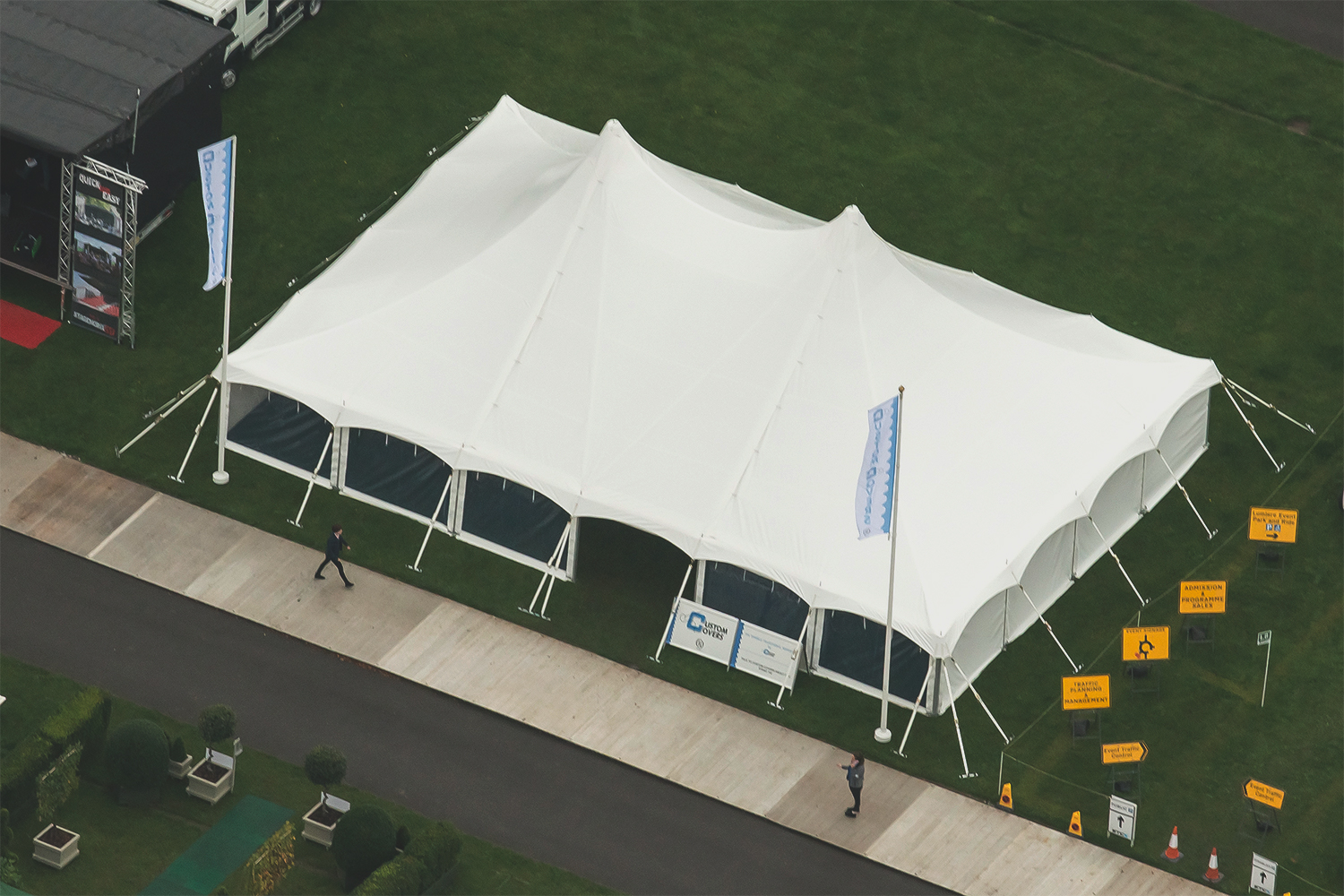 Our Main Stand
With our main stand we wanted to combine some of our most popular frames with some new additions. We ended up with 11 different frames blended into one. The entrance on Avenue B was made up of a 6m cone, joined by two 3m pagodas on either side, all covered in clear PVC. Through the entrance the structure opened up to feature two Hayling scallops with cones, the new 12m span and the returning 9m span. Next to a standard 6m x 6m marquee, joined to a 3m x 6m curved structure with clear PVC roofs to serve as walkway. This then extends to a family of curved structures: 6m, 9m and 12m all with our standard white PVC. From the entrance on Avenue C we had a 12m x 18m structure on a 3m leg (using 700mm leg extensions), capped off on both ends with 12m Bell extensions, all covered in matt black PVC.

What's new?
The Tensile Traditional Marquee
This year we introduced our newest structure, the Tensile Traditional Marquee which we had on display away from our main stand on Avenue F. The structure shown stood at a 12m x 18m span. Our Tensile Traditional Marquee has been engineered to the same European standards that all of our Coverspan structures are calculated to. Like all Coverspan frame structures, this has been designed to be modular, this allows an additional 6m to be added to the structure with ease. The marquee is available as a conversion kit or as a complete tent. The beauty of the conversion kit is that the legs and PVC walls of this tent are standard Custom Covers spec making the structure a great value purchase if you are thinking of expanding in this field. Linings for our traditional are still available for purchase.

12m Hayling
Last year we launched our 9m Hayling, this year we added a 12m Hayling to our product range. Recent developments have allowed the Hayling extension to be tensioned without needing a hip-end to pull the scallop tight. This creates a veranda on one side of the structure, which is tightened through the use of bracing bars. Our 9m and 12m Hayling marquees are available as complete tents or as conversion kits.

Matt Black PVC
To make an impact this year, we decided to cover an entire structure in Black PVC. A 12m x 18m sitting on a 3m leg, dressed both internally and externally in black. This structure was complimented by two Bell extensions in clear PVC on either side, one to serve as an entranceway and the other to act as a conservatory for the structure. This was combined with the max clear window walls surrounding the marquee. The interior of this structure was dressed in black roof linings, which were formed from regular 12m hip-ends put together using Velcro ® hook and loop to create a simple but effective roof design, we added pleated bronze swags around the valance to add a strong coloured note.

Other New Products
Inside our 12m curve, we demonstrated our new starlight bulb which emits a warmer light, creating a more natural twinkle to the starlight.
We dressed the main structure with new two-tone flat pelmets throughout. This increases the amount of colour combinations that are available to an event.
Our tack-off section of the marquee, situated within the 12m Hayling, featured a new flat tack-off roof.

Showman's Show Exhibition Stand Award
We were also delighted to have received 2nd place in the Exhibition Stand Awards. The judges change every year so we never know what they will be looking for. This year the judge was Simon Frere-Cook MBE from Plantworx, who used to be the general manager of the Royal County of Berkshire Show. He said that he really liked how we seamlessly combined a variety of our products into one structure.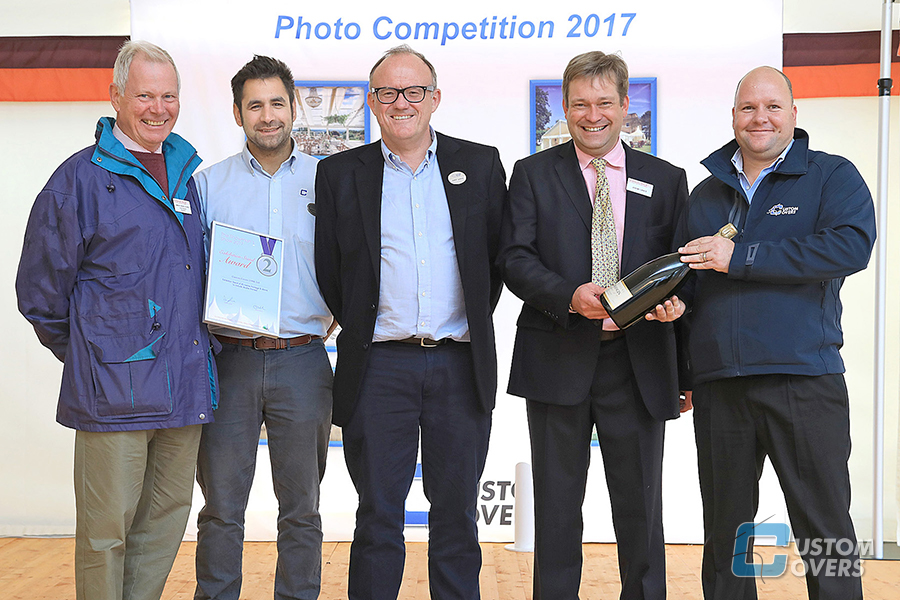 From L-R: Judge Simon Frere-Cook, CC Project Manager Andy Cleal, CC Managing Director Robert Sanders, Jeremy Lance and CC Sales Manager Vaughn Coutts

The Custom Covers Photo Competition
Our annual photo competition ran for its 10th year, and to celebrate we set the prizes at £300 and a bottle of Champagne for both winners (Internal and External). This year we had a record number of entries, hitting a total of 190. Of those favourite internal photo was from Marquee Vision, what we liked the fact that it showed off a combination of three different linings within a tri-cone structure. The winner of the external went to Anglia Coastal Marquees, their entry featured a really clean and crisp marquee which we felt showed off what our customers do best. With an honourable mention going to an entry from Stamford Marquees which managed to capture the Red Arrows in flight. Have a look at all the finalists in the gallery below.
Accepting their Awards: David and Chris Boardley and their team from Anglia Coastal Marquees. Andy Goodman and Rob Halstead from Marquee Vision.