Custom Covers open New Hire Depot in Winchester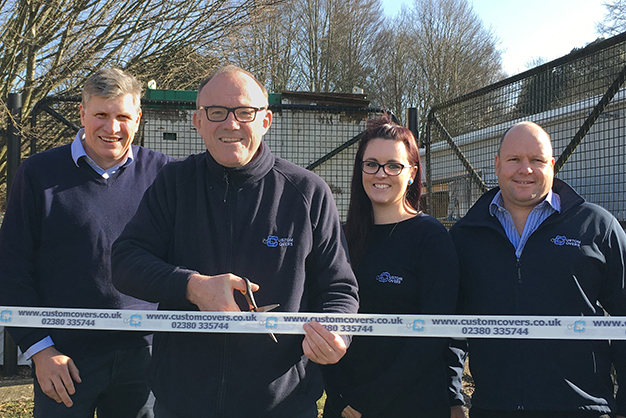 Managing Director Robert Sanders cuts the ribbon opening the new depot. In attendance: Director Simon Bell, Hire specialist Nicola White and Sales Manager Vaughn Coutts.
Custom Covers' new depot in Winchester has been officially opened with a ribbon cutting ceremony. The new depot will be the new home for the Company's decorative marquee lining hire business. From the 20th February all Custom Covers hire goods in and goods out will be based in Winchester, and not Southampton.
The new depot can be found on the Winchester Winnall industrial estate, just off J9 of the M3. You can find a map here, and here is the new address:
Custom Covers Winchester Hire Depot,
Unit B2 Moorside Road,
Winnall Industrial Estate,
Winchester,
SO23 7LW.
Why the move? MD Robert Sanders explained "we ran out of space in Southampton and so were lucky to find new premises for our hire business up the road" "For the vast majority of our hire customers, this location in Winchester at Junction 9 of the M3 and at the bottom of the A34 is more convenient to reach. For a small minority we are a further 10 miles up the road to Winchester but in Hampshire as any local business will know commercial space is at a premium".
See some images of the depot below: