Showman's Show 2019

For our 31st consecutive appearance at the Showman's Show we designed a stand which showed off our best-selling products as well as our Frame, PVC and Linings hire stock. In addition we launched this year our glamping tent .The show is the perfect opportunity to meet our customers face to face and get crucial feedback which we use to help evolve the business going forward.
Our Stand
The stand as a whole was made up of 2 of our most popular Coverspan structures; 9m, 12m this year both on 3 metre leg with 12m and 9m hayling cones and entrances; these cones became the centrepieces of the stand from the air as in this stunning aerial shot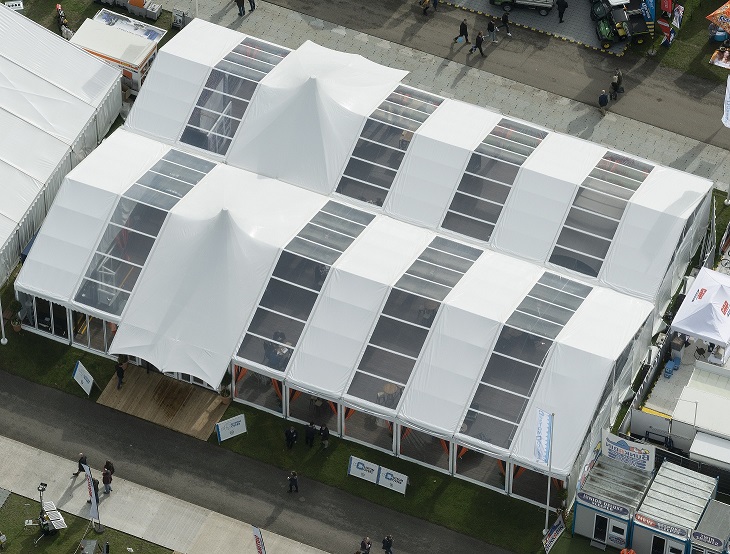 Inside the 9m
Inside the 9m, the stand was broken down into 2 distinct, but open areas, all supported using our own Flip-Flooring system straight out of our hire stock. The 9m structure hosted our range of linings products including blackout starlight linings, flat mid ivory linings and stunning burnt orange and midnight blue colour scheme for roof overlays and drapes. Also in the 9m we featured the launch of our glamping tent which comes as a stand alone or as a conversion using existing Custom Covers frame stock. Also the 9m featured a printed PVC area see below.
Inside the 12m
The 12m marquee featured clear 12m roofs, with flat mid-ivory roof linings black starlight linings , stunning burnt orange and navy blue colour notes used in the window drapes and roof overlays. At one end of the 12m structure was a nested display of our curved frame sizes, these are for purchaes or hire. In the marquee we also highlighted the use of clear PVC on the 3m max clear walls, 12 m roofs and 12m gables. Also for the first time we showed a max clear window wall with one piece (no weld) max clear PVC: for uninterrupted viewing.
Printed PVC Area
In addition to the new products shown in the 9m, we had a printed PVC area showing what you can do with printing inside a marquee. This featured a printed internal PVC gable and 3m printed leg covers, which aimed to create an urban warehouse theme. This is a service we can provide here at Custom Covers.