A-Frame Glamping Structure

5m x 9m Complete Glamping A-Frame Tent starting from £7850.00
Custom Covers Coverspan Framework on a 2.3m Leg, 0.5m Overhang to the sides and built in 3m increments
3m veranda area for outdoor living; 3m x 2.5m bedroom and bathroom, 3m x 5m mixed living, kitchen and diner.
Roof Panel manufactured in 8212 650grm PVC: Fire rating to BS-EN: 7837 (to see colour options click here)
Walls Panels manufactured in 8212 650grm PVC: Fire rating to BS-EN: 7837 (to see colour options click here)
Front Gable / Wall complete with 3m roll up door and window panels either side
Side wall supplied with 2 fixed Window Panels
Internal Roof linings in a lightweight 220grm white canvas with wall valance and corner drapes
External decorative free standing timber side poles from eave to base plates (no guide ropes required)
5m x 9m Glamping A-Frame Conversion Kit starting from £4950.00
Conversion kit is built using a Standard 6m x 9m structure
Custom Covers Coverspan Framework on a 2.3m Leg, 0.5m Overhang to the sides and built in 3m increments
8 x Fish Plate Knuckles - Conversion kit included (Roof beams to be drilled)
1 x Bespoke gable leg (rear)
2 x 2.5m Ground Rails (rear)
2 x 1m Ground Rails (front)
8 x Roof Cloth tension's Assembly
6 x Bar Tension Eave Rails
Complete PVC set which includes Roof, Walls, Gable and Internal linings complete with accessories
*All other components including Roof beams whether 6m or curved should come straight from your existing stock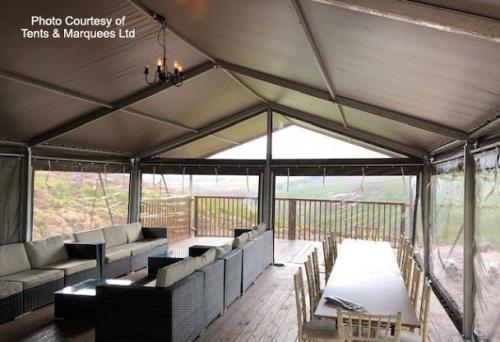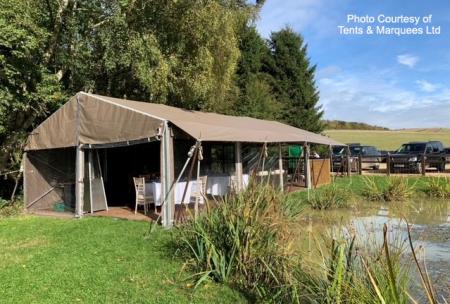 The floor plan shows an example layout of a 5m x 9m Glamping Tent with a 5m x 6m internal space.
This plan shows the bedroom and bathroom to the rear of the structure and an open plan living / kitchen area to the front with the option of a 3m roll up zipped door with windows to each side.
The 5m x 3m porch decking area is ample space for outdoor furniture and barbecuing.
This safari tent would be suitable for 2 adults and 2 children if sofa beds were installed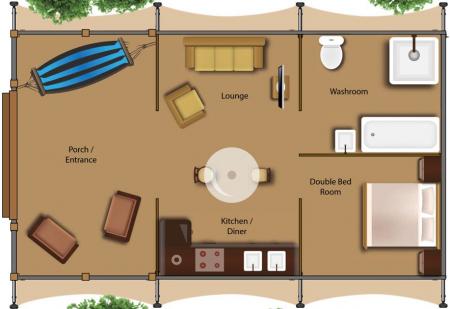 Inquire about A-Frame Glamping Tent