Beat the Ban!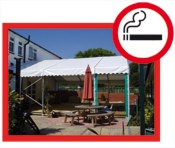 The smoking ban in Scotland is already in place and is taking effect on Pubs and their Landlords. The ban in England will be in force from July 2007 and you need to ask yourself what will that mean to you and your takings?
Custom Covers have a range of cost effective coverings which will provide a totally legal smoking shelter for your customers.
No matter what your requirements, we can help provide the ideal space. As well as our range off-the-shelf tents, we can create complex, bespoke and hard wearing shelters to suit your needs.
Beat the ban by making your customers still feel part of the pub, keep them warm and sheltered and stay legal!
Keep them covered with a Smoking Tent from Custom Covers.
Use the form below to get in contact and see how we can help you.
Smoking Tents