---
Custom Covers is defying the economic gloom by announcing new hires of 8 production staff, demonstrating the strength in local manufacturing despite the downturn.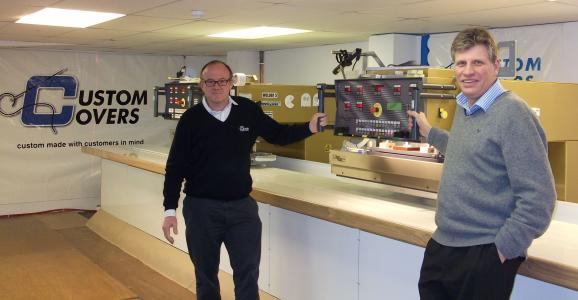 MD Robert Sanders (left) with Production Director Simon Bell with the new welder
Southampton marquee manufacturer Custom Covers (1984) Ltd has bought a new high frequency welding machine and expanded marquee covers production by 20%, hiring 8 new production staff in the process as they head into the new marquee season and prepare for the Olympic year.
MD Robert Sanders explains:
"Its excellent news; we are taking on 8 new production staff to cope with the increased demand for marquees and marquee covers increasing our total headcount to 74 staff. There will be acres of Marquees and temporary shelters all over the country for the Olympics and the Marquee industry is starting to gear up for this event. The purchase of the new welder, installed and commissioned in February, highlights our confidence in the future and the health of the manufacturing sector."
The welder is a 16kw high frequency Forsstrom machine and has the ability to pre-program welding cycles and do automatic welding. The welder with its new 27m welding bed lends itself to efficient large scale straight welds like in Marquee roofs. "We now have six 16kw welders and two long welding beds giving us the horse power to take on more big orders ahead of an expected spike in business as tent suppliers confirm additional contracts in the run up to the Olympics" commented production Director Simon Bell