Is it Spring Newsletter
From the start of the country's enforced lockdown we have kept an on-site presence here at Custom Covers to handle enquiry and perform the core functions of our business. This included
the production people needed to manufacture essential work, technical, the switchboard, goods in and out; Custom Covers' Winchester hire depot is however, closed.
With no events and no gatherings at all; our customers' markets remain largely closed until lock down restrictions are lifted, and as a result so is ours.
It's not all gloom and doom and almost immediately from the start of this period we started to see pockets of demand for specialist linings and cover work.

We are driven by the need to keep all employees and customers who visit Custom Covers healthy and safe. Therefore, the number of people who can work during the
Government lockdown is constrained: first by the restrictions required by the social distancing guidelines and second by the amount of work there is.
The current virus crisis is the most significant problem we have had to deal with in our history; we plan to survive it.

Thanks to all our staff who have come to work when requested and thanks to all our customers and their ongoing support.
If you need anything the switchboard at Custom Covers is open at 023 80335744 and if you can't get through email us on sales@customcovers.co.uk
Here are some things we have been up to during this period:
Garden Centre Permanent Installation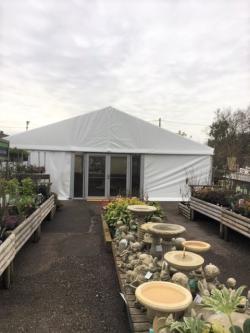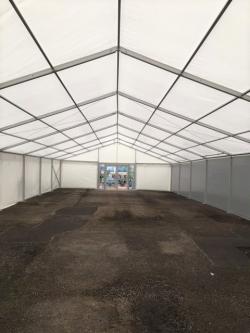 We installed this structure for a garden centre on the 20th March: on the last day of normal trading before the country went into lockdown.
Face Shield (Full Face Visors)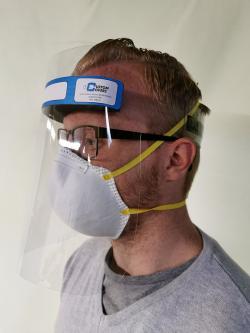 We have recently started manufacturing Face Shields (Full Face Visors) at our base in Southampton.
Our face shields are designed with a soft foam headband; clear PVC face guard and Velcro for ease of use and are CE (PPE) Category 1 certified
If you want or need some email sales@customcovers.co.uk, Click here for more and information or Click Here to acces our online shop
Insulated PVC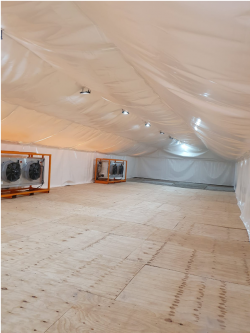 Here is a picture from Field and Lawn of some specialist Insulated PVC Linings we made for them and shipped last week.
Industrial Twin Skin Roofs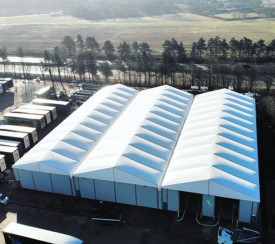 We are aware that there has been lots of demand for wharehouse capacity and we have been working to meet requirements in this area. Here's some of the
twin skin industral roofs we made in situ after installation.
Online Web Shop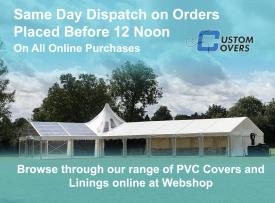 Our online shop is still up and running making it easy to buy PVC and Linings should the need arise during this difficult time.
You can check out our online shop here