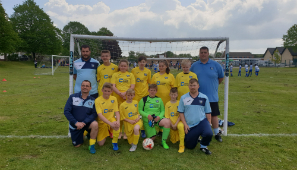 We've recently sponsored kit for local a local Pan Disability team based in Hamble. Pan Disability football is a great way for young people with disabilities to get involved in a competitive sport they otherwise wouldn't have access to.
The team, coached by one of our PVC manufacturers, Dan Shephard (top left), have competed in the Chelsea Foundation which sees 800 participants compete in a torment against other Pan Disability teams. The Hamble club had two teams playing, both the blue and yellow teams in the tournament won in their final matches going on to win a plate and cup to celebrate their hard work and dedication. You can click here to find out more information on the team, or you can receive all the latest information about the team on their Facebook page.
We were so happy to be able support a local team which helps get young disabled people involved in sport!