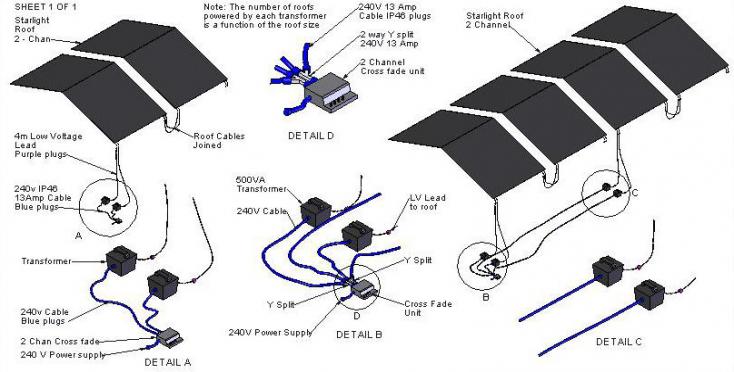 Raise linings in normal way but to waist height only.
Ensure the Master Looms (2 off per cloth) are situated along the same side of the cloth(s) and plug into next Master Looms if further roofs to be connected.
Plug each Master Loom into a transformer using low voltage leads supplied (each
transformer will run approximately 320 bulbs).
Connect each Transformer to the Cross Fade Controller. This controller then
should be connected to the mains 13amp power supply.
Check operation of lighting system before pulling up linings in the normal way.
LED Starlight Transformer numbers
The table below indicates the number of transformers required when wiring up an LED starlight roof. The number in the body of
the table indicates the number of transformers needed for the quantity of roof panels shown along the top.

Starlight Linings fitting and care Instructions
Care
Take care with handling - the bulbs are fragile (do not stand on roofs when installing)
Ensure linings are kept clean and dry.
When fitting check wiring looms are not caught on sewn on hooks.
When removing, fold carefully with bulbs to the inside and return to bin provided.
Installation
Always ensure black master looms are all down one side.
Ensure all plugs are connected correctly together.
On 2-channel roofs make sure yellow goes to yellow and blue-to-blue.
2 channel roofs require 2 transformers (1 per channel)
Tie the centre of roofs to lifting poles.
Lift roofs to just above head height.
Fit outer edges to eaves.
Join roofs together.
Connect to mains and check electrics are functioning.
Lift to desired height.
Wiring
Input = 240v.
Single transformers will run approximately 450 bulbs safely.
This equates to a maximum of 2 x 12m roofs or 3 x 9m roofs (single channel).
2 transformers will run 3 x 15m two-channel roofs.
There is a thermal reset on each transformer. Damp or overload are common causes of tripping.
Roof circuits run at 5v DC
Lamp looms fused with 2amp slow burn fuses
Safety
Do not remove plugs fitted to transformers.
Each transformer is fitted with a thermal reset button.
Damp or over load are common causes of tripping.
Lamploom fuses will blow if there are more than six bulbs out or if there is a short circuit.
Approx. power requirements. 9m =140w 12m =160w 15m =120w per channel
Roof circuits run at 5v DC
Lamp looms fused with 2amp slow burn fuses
Spare fuses are available if required. (If hire roof they are located in lid of bin)
Simple Fault finding
If transformer trips check for damp in plugs or over load of circuit.
If lights are not working check roofs are plugged together and are connected to the mains and the mains supply is working.
Check you have less than the maximum amount of roofs connected for the transformer to run.
Single lamp loom not working
Check lamp loom fuse, spares available if required. (If hire roof they are located in lid of bin)
Check if the bayonet connection is loose or lamp loom holder damaged.