Curve Conversion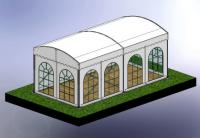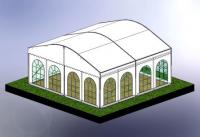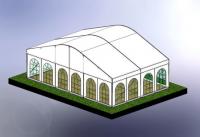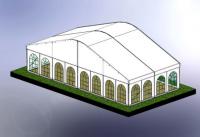 A Custom Covers curved roof beam allows your existing structure to gain the elegance of a curved apex whilst utilising your existing components. The curved roof beam, with inserts, will allow a 3m structure to be extended to 6m; a 6m to a 9m; a 9m to a 12m span structure. To convert an existing frame to a curved frame, a conversion pack is needed.
The curved beam can also be used on its own with standard eave knuckles to create a 3m span walkway. Custom Covers have developed a 90 degree turn for this struture.
For 3/6/9m frames the existing PVC roofs can be used, however the curve is approx 75mm shorter than that of the classic frame. This means that the valance will hang lower.
For 12m frames a whole new roof is required due to the diameter of the kader.
For large structures, new wind braces will also need to be fitted. (see bracing layout sheet). The bracing requirement differs from a standard 12m and is essential for compliance to the structural codes.
Existing linings will fit under the curved beam but the lifting poles will need to touch the roof beam.