Our stand at the Showman's Show this year included our 12m Hayling Marquee in matt black PVC, along with our popular 9m Cover-span marquee sporting a bell structure at one end.
Our Stand
During this year's show, we featured two of our most popular Coverspan structures; the 9m and 12m, both on 3 meter legs. In the 12m range, we featured our new Hayling design, which complements the popular 9m version. With its deep scalloped edge, the Hayling tent gives an aesthetic similar to a safari tent; it also features our new orangery roofs and walls. The 9m Structure was exhibited with our best-selling Low-wick White PVC Bar Tension and clear bell PVC roof.
Inside the 12m
As part of the 12m marquee, we installed 12m Hayling Hip-ends with Hayling Clear Cones as well as the new orangery clear roof and walls, our new X-Drapes in Pleated White, pleated white hip ends that were taken right from our hire stock, as well as 1.5m wide window drapery, 2oz Flat Black Pelmets with dye sublimation printed wall linings.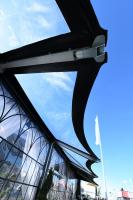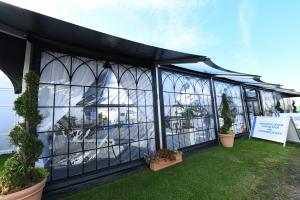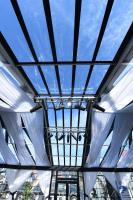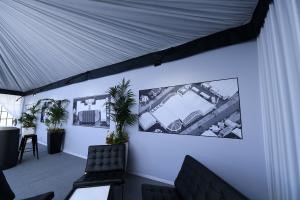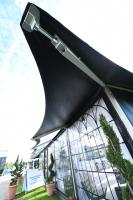 Inside the 9m
Two distinct, yet open areas were divided within the 9m stand. As part of the 9m structure, we featured a selection of lining products, including Ivory starlight linings, as well as Flat CQ Star Wall and Pelmet linings that matched them. Also included in the 9m were our two condensation barriers, which are available either as a standard PVC barrier or as a foam backed PVC barrier that can also be used for acoustic insulation. This year, we also showcased a line of dye sublimation printed linings that produce cleaner, crisper images. A technical area included our Sub-frame flooring and Flip Flooring which was used to build this year's show stand; frame samples of the A-Frame and Curved frames 3m/6m/9m as well as the 12m/15m including the keystone extension and the Bar Tension and Bungee tensioned system were displayed on our 3m curved structure.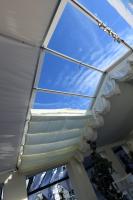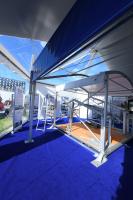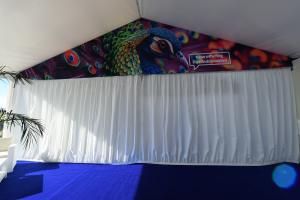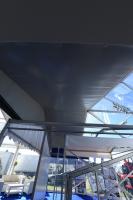 Custom Covers Wall Challenge
For the first time this year we held the Custom Covers Wall Challenge. It was great to see people putting their skills to the test and giving it a go to see how quickly they could complete an install of a plain PVC two piece wall, remove it back to its original bag. The winner of the challenge won a large bottle of champagne as well as the first ever Wall Challenge winner's trophy. So who was the quickest? With a time of 2 mins 42 secs was Taylor Bond from The Marquee & Furniture Co.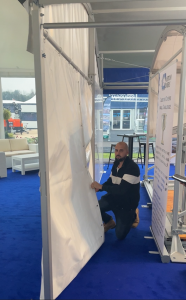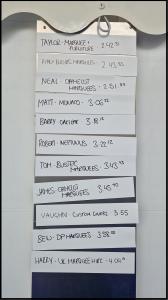 Last week we announced the winners of the 15th annual Custom Covers photo competition at the Showman's Show. Congratulations to our winners who each won £350. To find out who won click the link below.